Picture Books
Annie's Plaid Shirt. Stacy B. Davids. (K – 1) Annie's mom tells her that she must wear a dress to her uncle's wedding. Annie protests, but her mom buys her a fancy new dress anyway. Annie is miserable. Why can't her mom understand? Then, Annie has an idea. But will her mom agree? Lesson Plan.
The Boy & the Bindi. Vivek Shraya. (Pre-K – 2) A five-year-old South Asian boy becomes fascinated with his mother's bindi, the red dot commonly worn by Hindu women and wishes to have one of his own. Rather than chastise her son, she agrees, giving him permission to be more fully himself. Lesson Plan.
Bunnybear. Andrea J. Loney. (Pre-K – 1) Although Bunnybear was born a bear, he feels more like a bunny. The other bears don't understand him, and neither do the bunnies. Will Bunnybear ever find a friend who likes him just the way he is? Lesson Plan.
I am Jazz. Jessica Herthel and Jazz Jennings. (K – 5) From the time she was two years old, Jazz knew that she had a girl's brain in a boy's body. She loved pink and dressing up as a mermaid and didn't feel like herself in boys' clothing. Based on the real-life experience of Jazz Jennings. Lesson Plan.
Introducing
Teddy: A gentle story about gender and friendship. Jess Walton. (Pre-K – K) Introduces the youngest readers to understanding gender identity and transition in an accessible and heart-warming story about being true to yourself and being a good friend. Lesson Plan.
It Feels Good to Be Yourself. Theresa Thorn. (Pre-K – 3) Some people are boys. Some people are girls. Some people are both, neither or somewhere in between. A straightforward exploration of gender identity, providing young readers and adults with the vocabulary to discuss the topic with sensitivity. Lesson Plan.
Jacob's New Dress. Sarah and Ian Hoffman. (Pre-K – 2) Jacob lov
es playing dress-up, when he can be anything he wants to be. Some kids at school say he can't wear "girl" clothes, but Jacob wants to wear a dress. Can he convince his parents to let him wear what he wants? Speaks to the unique challenges faced by boys who don't identify with traditional gender roles. Lesson Plan.
Julián Is a Mermaid. Jessica Love. (Pre-K – 2) While in the subway with his abuela, Julián sees three women spectacularly dressed up and he wants to dress up just like them. But what will his Abuela think? A story about the power of been seen and affirmed. Lesson Plan.
Red: A C
rayon's Story. Michael Hall. (Pre-K – 1) A blue crayon mistakenly labeled as "red" suffers an identity crisis. Almost everyone tries to "help" him be red until a friend offers a new perspective. He's blue! About finding the courage to be true to your inner self. This can be read on multiple levels. Lesson Plan.
They, She, He easy as ABC. Maya and Matthew Smith-Gonzalez. (Pre-K – 1) Inclusive pronouns are featured alongside the alphabet. An introduction to the many different ways people identify and use pronouns. Shows that including everyone is all part of the dance. "No one left out and everyone free." Lesson Plan.
When Aidan Became a Big Brother. Kyle Lukoff and Kaylani Juanita. (Pre-K – 2) When Aidan was born, everyone thought he was a girl, but as he grew older, he realized he was a trans boy. When he finds out he is going to be a big brother, he learns the most important thing about being an older sibling: how to love with his whole self. Lesson Plan.
Middle Grade Books
Better N
ate Than Ever. Tim Federle. Nate plans an overnight escape to New York for an open casting call for E.T.: The Musical, knowing this could be the difference between small-town blues and big-time stardom. Also: Five, Six, Seven, Nate! and Nate Expectations.(4 – 8)
Felix Yz. Lisa Bunker. (5 – 8) When Felix Yz was three he is accidentally fused with a fourth-dimensional being. Now he's on the brink of a risky procedure that will free him. With an awkward crush on a boy at school, a gender fluid grandparent and a Bi mom, family, bullying and identity are woven into the story.
George. Alex Gino. (3 – 6) When people look at George, they think they see a boy. But she knows she's not a boy. She knows she's a gir
l. George really wants to play Charlotte in Charlotte's Web. Will she be able to?
Gracefully Grayson. Ami Polonsky. (5 – 7) Grayson has been holding onto a secret for what seems like forever: "he" is a girl on the inside. Will new strength from an unexpected friendship and a caring teacher's wisdom be enough to help Grayson?
Lizard Radio. Pat Schmatz. (5 and up) In a futuristic society, Kivali is a Bender - not quite boy or girl. Sent to CropCamp, a commune meant to steer teens toward a lifetime of good citizenship and "proper" gender roles, Kivali, called Lizard, wrestles with friendship, love, and the price of being true to oneself.
The Moon Within. Aida Salazar. (4 – 7) Celi Rivera's life swirls with questions. About her changing body. Her first attraction to a boy. And her best friend's exploration of what it means to be genderfluid. But most of all, her mother's insistence she have a moon ceremony, an ancestral Mexica ritual, when her first period arrives.
Not Your Sidekick. C.B. Lee. (5 – 8) Welcome to Andover, where superpowers are common, but internships are complicated. On the upside, Jessica gets to work with her longtime secret crush, Abby. With a sudden and dangerous turn, she uncovers a plot larger than heroes and villains altogether. Also see: Not Your Villain.
The Pants Project. Cat Clarke (3 – 6) Liv knows he was always meant to be a boy but he hasn't told anyone – even his two moms yet. Now, his new school has a terrible dress code, he can't even wear pants. Only skirts. The only way for Liv to get what he wants is to go after it himself. But to Liv, this isn't just a mission to change the policy―it's a mission to change his life.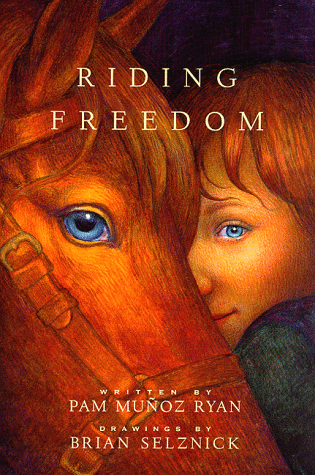 Riding Freedom. Pam Muñoz Ryan. (4 – 6) A fictionalized account of the true story of Charley (Charlotte) Parkhurst who ran away from an orphanage, lived as a boy, moved to California, and became a stagecoach driver.
Roller Girl. Victoria Jamieson. (4 – 7) An inspiring coming-of-age story about friendship, perseverance, and girl power! And so begins the most difficult summer of Astrid's life as she struggles to keep up with the older girls at camp, hang on to the friend she feels slipping away, and cautiously embark on a new friendship. Graphic novel.
Steven Universe. Rebecca Sugar. (2 – 6) Many books and graphic novels are set in the "Steven Universe", an Emmy award winning animated series on Cartoon Network. Follow the adventures of Steven and the Gems. This series Includes LGBTQ, non-binary characters, and an intersex character.
Zenobia July. Lisa Bunker. (5 – 9) Zenobia July is starting a new life in Maine with her aunts. People used to tell her she was a boy; now she's able to live openly as the girl she always knew she was. When someone anonymously posts hateful memes on her school's website, Zenobia knows she's the one with the hacking skills to solve the mystery