Diverse Picture Books
Amber Was Brave, Essie Was Smart. Vera B. Williams. (1 – 4) Poems tells how two sisters help each other deal with life while their mother is working and their father is in jail. Friendships and support shine through.
And Tango Makes Three. Justin Richardson. (Pre-K – 2) The story of two famous dads — penguins Roy and Silo from New York's Central Park Zoo. The two take turns sitting on an egg until it hatches, and Tango is born.
Bird. Zetta Elliot. (3 – 5) A touching look at a young boy coping with real-life troubles from the impact of his older brother's drug addiction on his family and his beloved grandfather's death. With drawing and the help of his grandfather's friend, Bird finds his own special somethin' and wings to fly.
A Chair for My Mother. Vera B. Williams. (K – 3) After a fire destroys their home, Rosa, her mother, and grandmother save until they can afford to buy a big, comfortable chair for all three of them. Also in Spanish.
The Different Dragon. Jennifer Bryan. (Pre-K – 1) Shows how the wonderful curiosity and care of a little boy, with some help from his two moms, can lead to magical places with a dragon who is tired of being tough.
Dreamers. Yuyi Morales. (Pre-K – 3) In 1994, Yuyi Morales left her home in Xalapa, Mexico, and came to the U.S. with her infant son. She left behind nearly everything she owned, but she didn't come empty-handed. She brought her strength, her work and her dreams as she made her home in a new place. Spanish edition: Soñadores.
Families. Shelley Rotner and Sheila M. Kelly. (Pre-K – K) Big or small, similar or different, there are all kinds of families featured in the many photos. This inclusive look can help children see beyond their experiences and begin to understand others.
The Family Book. Todd Parr. (Pre-K – K) All kinds of families are celebrated in a funny, silly and reassuring way. Includes adoptive families, stepfamilies, single-parent families, two-mom and two-dad families and families with a mom and a dad.
The Great Big Book of Families. Mary Hoffman. (Pre-K – 3) Features all kinds of families and their lives together. Each spread showcases one aspect of home life - from houses and holidays, to schools and pets, to feelings and family trees.
Hairs / Pelitos. Sandra Cisneros. (Pre-K – 1) A young girl describes how each person in the family has hair that looks and acts different. The paintings reflect the diversity among the family and personalities. Bilingual.
Harriet Gets Carried Away. Jessie Sima. (Toddler – K) Harriet, an African American girl, with two dads loves costumes and can get a little carried away! A fun story about remembering where you belong, no matter how far you roam, or what you're wearing when you get there.
Heather Has Two Mommies, 25th Anniversary Edition. Lesléa Newman. (Pre-K – K) Heather's favorite number is two – two arms, two legs, and two pets. And she also has two mommies. As school begins, Heather sees that, "the most important thing about a family is that all the people in it love one another."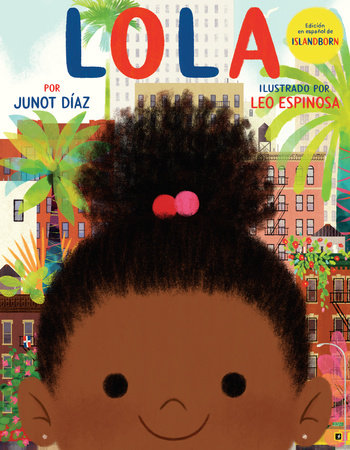 Islandborn / Lola. Junot Díaz. (Pre-K – 1) When her teacher asks the class to draw a picture of where they're from, Lola can't remember the Island. So she interviews the people in her neighborhood to find out about it. English and Spanish editions.
Kite Flying. Grace Lin. (Pre-K – 1) Celebrates the Chinese tradition of kite making and kite flying and lovingly depicts a family bonded by this ancient and modern pleasure. With beautiful signature illustrations by Lin.
Knock Knock: My Dad's Dream for Me. Daniel Beaty. (K – 2) Shows the love that an absent parent can leave behind, and the strength that children find in themselves as they grow up and follow their dreams.
Last Stop on Market Street. Matt De La Peña. (K – 1) An energetic ride through a bustling city highlights the wonderful perspective only a grandparent and grandchild can share.
Marisol McDonald Doesn't Match/ Marisol McDonald No Combina. Monica Brown. (Pre-K – 2) Marisol McDonald, a biracial, nonconformist, soccer-playing pirate-princess with brown skin and red hair, celebrates her uniqueness. Bilingual.
Muskrat Will be Swimming. Cheryl Savageau. (1 – 5) A heartwarming tale of the lesson a girl learns from a Seneca creation story her grandfather tells her — a lesson of knowing who you are and staying strong in the face of hurtful criticism.
My Abuelita. Tony Johnston. (K – 2) Abuelita's hair is the color of salt. She booms out words as wild as blossoms blooming. A celebration of family, imagination, and the power of story.
My Brother Charlie. Holly Robinson Peete. (K – 2) Callie is very proud of her brother Charlie. He's good at so many things. But sometimes Charlie gets very quiet and his words get locked inside him. A sister's story of living with a brother who has autism.
The Name Jar. Yangsook Choi. (K – 2) The new kid in school needs a new name! Or does she? Having just moved from Korea, Unhei is anxious that American kids will like her.
One Family. George Shannon. (Pre-K – 2) While the text looks at numbers and the concept of "one" – one batch of cookies, one family, one world – the images portray a diverse range of people and families – multigenerational, interracial, gay.
Prince & Knight. Daniel Haack (Pre-K - 1) A prince searched near and far for a bride. When his lands were threatened by a dragon, the prince raced back to protect his kingdom and was met by a brave knight in a suit of brightly shining armor. Together they fought the dragon and discovered that special something the prince was looking for all along.
Stella Brings the Family. Miriam B. Schiffer. (Pre-K – 1) Stella's class is having a Mother's Day celebration, but what's a girl with two daddies to do? Fortunately, Stella finds a unique solution to her party problem in this sweet story about love, acceptance, and the true meaning of family.
A Tale of Two Daddies.
Vanita Oelschlager. (Pre-K – 1) A young girl answers a friend's questions about what it is like to have two fathers. The boy asks straightforward questions. The story ends with simply, "Who is your dad when you're sad and need some love?" Both, of course.
This Is the Rope: A Story from the Great Migration. Jacqueline Woodson. (1 – 4) A found piece of rope binds a family together through three generations as they journey from South Carolina to Brooklyn.
Thunder Boy Jr. Sherman Alexie. (K – 2) Thunder Boy Jr. is named after his dad, but he wants a name that's all his own. In the Native American tradition, he and his dad set out to pick one based on who he is. Celebrates the special relationship between father and son.
We Belong Together: A Book About Adoption and Families. Todd Parr. (Pre-K – 1) Explores the ways that people can choose to come together to make a family. It's about sharing your home and sharing your heart to make a family that belongs together.
When Aidan Became a Big Brother. Kyle Lukoff and Kaylani Juanita. (Pre-K – 2) When Aidan was born, everyone thought he was a girl, but as he grew older, he realized he was a trans boy. When he finds out he is going to be a big brother, he learns the most important thing about being an older sibling: how to love with his whole self.
Yo Soy Muslim: A Father's Letter to His Daughter. Mark Gonzales. (Pre-K – 3) A lyrical picture book about a parent who encourages their child to find joy and pride in all aspects of their multicultural identity.
Diverse Middle Grade Books
Almost Home. Joan Bauer. (4 – 7) When Sugar and her mother lose their home, they head to Chicago for a fresh start, only to discover that fresh starts aren't so easy to come by for the homeless. But, Sugar shows resilience, especially with the help of a new puppy and a warm foster family.
Also Known as Elvis. James Howe. (4 – 7) Skeezie's got the leather jacket of a tough guy, but a heart of gold. While stuck at home for the summer helping out his mom, he navigates first crushes and tough choices about family and friends. Final book in The Misfits series.
As Brave As You. Jason Reynolds. (5 – 8) Two brothers leave Brooklyn for the first time to spend the summer with their grandparents in Virginia. When they decide to prove how brave they are, everything backfires—literally. A story touching on gender expectations, what does it mean to be brave, hurt, and love.
The Best Man. Richard Peck. (3 – 5) With humor and insight, Newbery Medalist, Richard Peck, follows a boy from elementary school to middle school navigating school and family dynamics. Starts with a wedding disaster and ends with a great one.
Brown Girl Dreaming. Jacqueline Woodson. (4 – Adult) Raised in South Carolina and New York, Woodson always felt halfway home in each place. In vivid poems, she shares what it was like to grow up as an African American in the 1960s and 1970s.
Dancing Home / Nacer bailando. Alma Flor Ada. (4 – 6) Margie has been making efforts to distance herself from her heritage when her cousin from Mexico comes to live with her. Slowly the girls learn from each other and learn the importance of family and friendship. English and Spanish editions.
The Exact Location of Home. Kate Messner. (3 – 5) Zig's dad canceled his last visit with no explanation. As Zig and his mom struggle financially, Zig sets out to find his dad with a GPS and clues around town. Incorporates issues of bullying, homelessness, incarceration and single parent homes.
Front Desk. Kelly Yang. (4 –6) Mia Tang has a lot of secrets. She lives in a motel, not a big house. Every day, while her immigrant parents clean the rooms, ten-year-old Mia manages the front desk. Her parents hide immigrants. She wants to be a writer. But how can she when her mom thinks she should stick to math because English is not her first language?
Ghost. Lu. Patina. Sunny. Jason Reynolds. (4 – 8) A series of books with four kids from very different backgrounds with personalities that are explosive when they clash. All are a part of an elite middle school track team that goes to the state championships. They all have a lot to lose, but they also have a lot to prove, not only to each other, but to themselves.
Gone Crazy in Alabama. Rita Williams-Garcia. (4 – 6) The three sisters from One Crazy Summer and P.S. Be Eleven head to Alabama to visit their grandmother and great-grandmother for the summer. The book includes family history, family complications and family fun.
The Great Wall of Lucy Wu. Wendy Wan Long Shang. (3 – 6) A humorous and heartwarming story about split cultural identities, and the way life doesn't go as planned for sixth-grader Lucy Wu – especially when her great-aunt comes for an extended visit from China.
A Handful of Stars. Cynthia Lord. (3 – 6) This powerful middle-grade novel from the Newbery Honor author of RULES explores a friendship between a small-town girl and the daughter of migrant workers.
Home of the Brave. Katherine Applegate. (4 – 8) Kek, an African refugee, is confronted by many strange things at the Minneapolis home of his aunt and cousin, as well as in his fifth grade classroom, and longs for his missing mother, but finds comfort in the company of a cow and her owner.
How Tia Lola Came to [Visit] Stay. Julia Alvarez. (3 – 7) Miguel and his sister have just moved to Vermont with their mother, leaving behind their father in New York. Tia Lola comes from the Dominican Republic to help out, creating a whirlwind from her flamboyant appearance to her lively music, and vivid storytelling.
Inside Out and Back Again. Thanhha Lai. (4 – 7) Hà who has only known Saigon is forced to flee with her family as the Vietnam War ends. She ends up in Alabama. Follow one girl's year of change, dreams, grief, and healing as she journeys from one country to another, one life to the next. Short free–verse poems.
Ivy Aberdeen's Letter to the World. Ashley Herring Blake 5-7 In the wake of a destructive tornado, one girl develops feelings for another in this stunning, tender novel about emerging identity.
The Liberation of Gabriel King. K. L. Going. (4 – 6) In the summer of 1976, Gabriel, a white boy who is being bullied, and Frita, an African American girl who is facing prejudice, decide to overcome their fears together as they enter fifth grade. Story of the power of friendship, understanding and family.
Locomotion. Jacqueline Woodson. (5 – 8) In a series of poems, eleven-year-old Lonnie writes about his life, after the death of his parents, separated from his younger sister, living in a foster home, and finding his poetic voice at school.
Love, Amalia / Con cariño, Amalia. Alma Flor Ada and Gabriel M. Zubizarreta. (2 – 4) When Amalia's best friend moves away, she turns to her grandmother for comfort. But when her grandmother dies, where can she turn? A story of the importance of family, heritage, and good food.
The Magic Misfits. Neil Patrick Harris. (3 – 6) After young street magician Carter runs away, he meets Dante Vernon, an illusionist, who runs a magic shop with his husband and their daughter. Carter finally finds friends and magic saving the town of Mineral Wells from B.B. Bosso's villainous clutches. Sequel: The Magic Misfits: The Second Story.
The Misadventures of the Family Fletcher. Dana Alison Levy (3 – 5) The Fletchers' school year is anything but boring with four brothers, two dads – from camping trips to scary tales told in the dark, from new schools to old friends, from imaginary cheetahs to very real skunk sand one new neighbor who just might ruin everything.
My Louisiana Sky. Kimberly Willis Holt. (4 – 6) Tiger Ann wants nothing more than to get out of her rural town—away from her mentally disabled mother, her "slow" father, and her classmates who tease her. But when she has a chance, she has to make hard decisions about her life and her family.
Playground: A Mostly True Story of a Former Bully. Curtis "50 Cent" Jackson, Laura Moser. (6 – 9) A realistic look at bullying from the perspective of an urban young teen boy in middle school. Looks at the boys feelings as both a target and perpetrator of bullying. Also deals with divorce and gay parenting. Some explicit language.
The Popularity Papers: Research for the Social Improvement and General Betterment of Lydia Goldblatt and Julie Graham-Chang. Amy Ignatow. (4 – 6) Two fifth-grade best friends are determined to uncover the secrets of popularity by observing, recording, discussing, and replicating the behaviors of the "cool" girls. Notebook format. Julie has two dads. First in a series of seven books.
Star in the Forest. Laura Resau. (3 – 6) Zitlally's family is undocumented, and her father has just been arrested for speeding and deported back to Mexico. Meanwhile, Zitlally and a new friend find a dog in the forest near their trailer park. Will her Dad make it back home? Will the dog be OK?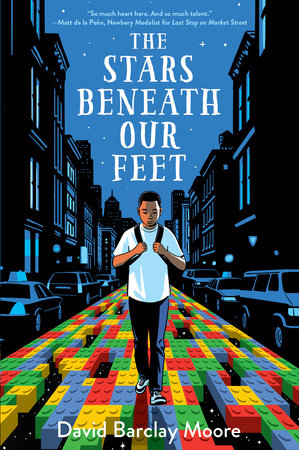 The Stars Beneath Our Feet. David Barclay Moore. (5 – 9) A boy tries to steer a safe path through the projects in Harlem in the wake of his brother's death. Then Lolly's mother's girlfriend brings him a gift that will change everything: two enormous bags filled with Legos.
The Watsons Go to Birmingham—1963. Christopher Paul Curtis. (4 – 6) Enter the world of ten-year-old Kenny and his family, the Weird Watsons of Flint, Michigan, when Momma and Dad decide it's time for a visit to Grandma in the South at one of the darkest moments in America's history.
Wonder. R.J. Palacio. (5 – 7) Auggie was born with a facial deformity that prevented him from going to a mainstream school until 5th grade. Told from multiple perspectives of family and friends that highlight different struggles with empathy and acceptance.
The Year of Billy Miller. Kevin Henkes. (1 – 2) Follow along as Billy learns to navigate 2nd grade with his stay-at-home dad, his busy working mom and his cute (but annoying) little sister. From the complications of a diorama to a poetry slam on family, Billy makes it through the year. A classmate has two moms.
The Year of the Dog. Grace Lin. (3 – 5) Pacy and her two sisters are the only Taiwanese-American children at school until Melody arrives. Follow them through the Year of the Dog as they celebrate with family, try to integrate different cultures and navigate school projects and friends. Continues with The Year of the Rat, and Dumpling Days.