Diverse and Inclusive Family Books
All Are Welcome. Alexandra Penfold. (Pre-K – 1) Follow a diverse group of children from all kinds of families through a day at school, where everyone is welcomed with open arms. It lets young children know that no matter what, they have a place, they have a space, they are welcome in their school. Lesson Plan.
Families. Shelley Rotner and Sheila M. Kelly. (Pre-K – K) Big or small, similar or different, there are all kinds of families featured in the many photos. This inclusive look can help children see beyond their own experiences and begin to understand others. Lesson Plan.
Families, Families, Families! Suzanne and Max Lang. (Pre-K – K) A host of silly animals represent all kinds of families. Depicted as portraits, framed and hung, these goofy creatures offer a warm celebration of family love. Lesson Plan.
The Family Book. Todd Parr. (Pre-K – K) All kinds of families are celebrated in a funny, silly and reassuring way. Includes adoptive families, stepfamilies, single-parent families, two-mom and two-dad families and families with a mom and a dad. Quirky humor and bright, childlike illustrations. Lesson Plan.
Family Is a Family Is a Family. Sara O'Leary. (Pre-K – K) When a teacher asks the children in her class to think about what makes their families special, the answers are all different in many ways— but the same in the one way that matters most of all. Lesson Plan.
The Great Big Book of Families. Mary Hoffman. (Pre-K – 3) Features all kinds of families and their lives together. Each spread showcases one aspect of home life - from houses and holidays, to schools and pets, to feelings and family trees. Lesson Plan.
Picture Books: LGBTQ Family and Who You Love
The Adventures of Honey and Leon. Alan Cumming and Grant Shaffer. (Pre-K – 1) The two rescue dogs shadow their dads on a trip across the sea, keeping them out of danger at every turn! How did their dads survive without Honey and Leon's protection for this long?
And Tango Makes Three. Justin Richardson & Peter Parnell. (1-3) Penguins Roy and Silo at New York's Central Park Zoo, keep putting a rock in their nest and try to hatch it. The zookeeper gives them a real egg that needs care. The penguins take turns sitting on ituntil it hatches, and Tango is born. Lesson Plan.
Baby's First Words and Mis primeras palabras. Christiane Engel. (Baby – Toddler) Featuring a family with two dads. Includes over 100 words designed to support the way babies naturally learn language — and to start conversations! Plus, search for the silly woolly mammoth on every page!
The Bravest Knight Who Ever Lived. Daniel Errico, (Pre-K – 1) Follow Cedric on his journey from a humble pumpkin farmer to a full-fledged knight. In the end, will he follow his heart, and prove that sometimes the bravest thing you can do is choose for yourself how your fairy tale ends? Made into a TV series on Hulu.
The Different Dragon. Jennifer Bryan. (K – 1) Shows how the wonderful curiosity and care of a little boy, with some help from his two moms, can lead to magical places with a dragon who is tired of being tough. Lesson Plan.
Donovan's Big Day. Lesléa Newman, (Pre-K – 2) Captures the excitement of a young boy as he and his extended family prepare for the boy's two moms' wedding. A picture book about love, family, and marriage.
The Gay Rights Movement (Movements That Matter). Eric Braun. (3 – 5) What has changed throughout the history of the gay rights movement? Learn about the key people and events that have paved the way for the modern gay rights movement. Lesson Plan.
Harriet Gets Carried Away. Jessie Sima. (Toddler – K) Harriet, an African American girl, with two dads loves costumes and can get a little carried away! A fun story about remembering where you belong, no matter how far you roam, or what you're wearing when you get there.
Heather Has Two Mommies. 25th Anniversary Edition. Lesléa Newman. (Pre-K – K) Heather's favorite number is two. She has two arms, two legs, and two pets. And she also has two mommies. As school begins, Heather sees that, "the most important thing about a family is that all the people in it love one another."
Home at Last. Vera B. Williams and Chris Raschka. (1 – 3) After Lester is adopted by Daddy Albert and Daddy Rich, he develops a big problem—he can't fall asleep. It's the sweet dog, Wincka, who finally solves the problem and helps Lester feels home at last.
I am Jazz. Jessica Herthel and Jazz Jennings. (K – 5) From the time she was two years old, Jazz knew she was a girl, even though others saw her as a boy. She loved pink and dressing up as a mermaid and didn't feel like herself in boys' clothing. Based on the real-life experiences of Jazz Jennings. Lesson Plan.
Keesha's South African Adventure. Cheril N Clarke and Monica Bey-Clarke. (Pre-K – 2) After learning about South Africa in school, the inquisitive and lighthearted Keesha dreams of going to see it for herself. She gets the surprise of a lifetime when her two moms decide to take her there.
Last Week Tonight with John Oliver Presents a Day in the Life of Marlon Bundo. Jill Twiss and Marlon Bundo. (K – 2) Marlon Bundo is a Very Special boy bunny who falls in love with another boy bunny. He was lonely living with his Grampa, Mike Pence - the Vice President. But on this Very Special Day, Marlon's life is about to change forever. Lesson Plan.
Maiden Voyage. Jaimee Poipoi. Adam Reynolds & Chaz Harris. (Pre-K – 1) When a fisherman's daughter inherits a map and joins the crew of a courageous female captain, a bond between them soon forms into love. Pursuing them on the high seas adventure is a fierce band of pirates, bewitched by a wicked Queen.
Pride: The Story of Harvey Milk and the Rainbow Flag. Rob Sanders. (1 – 3) Trace the life of the Gay Pride Flag, from its beginnings in 1978 with social activist Harvey Milk and designer Gilbert Baker to its spanning of the globe and its role in today's world. A Junior Library Guild Selection. Lesson Plan.
Prince & Knight. Daniel Haack (Pre-K - 1) A prince searched near and far for a bride. When his lands were threatened by a dragon, the prince raced back to protect his kingdom and was met by a brave knight in a suit of brightly shining armor. Together they fought the dragon and discovered that special something the prince was looking for all along.
Stella Brings the Family. Miriam B. Schiffer. (Pre-K – 1) Stella's class is having a Mother's Day celebration, but what's a girl with two daddies to do? Fortunately, Stella finds a unique solution to her party problem in this sweet story about love, acceptance, and the true meaning of family. Lesson Plan.
A Tale of Two Daddies. Vanita Oelschlager. (Pre-K – 1) A young girl answers a friend's questions about what it is like to have two fathers. The boy asks straightforward questions. The story ends with simply, "Who is your dad when you're sad and need some love?" Both, of course. Also see, A Tale of Two Mommies.
Middle Grade Books: LGBTQ Family and Who You Love
Also Known as Elvis. James Howe. (4 – 7) Skeezie's got the leather jacket of a tough guy, but a heart of gold. While stuck at home for the summer taking care of his sisters and working five days a week to help out his mom, he navigates first crushes and tough choices about family and friends. Final book in The Misfits series.
Ashes to Asheville. Sarah Dooley. (5
– 7) After Mama Lacy's death, Fella was forced to move in with her grandmother while her sister Zoey stayed with Mama Shannon. One night, Zany shows up determined to fulfill Mama Lacy's dying wish: to have her ashes spread at the last place they were all happy as a family. So, the sisters take off on a wild road trip.
The Best Man. Richard Peck. (3 – 5) With humor and insight, Newbery Medalist, Richard Peck, follows a boy from elementary school to middle school navigating school and family dynamics. Starts with a wedding disaster and ends with a great one.
Captain Underpants and the Sensational Saga of Sir Stinks-A-Lot. Dan Pilkey. (2 – 4) When George and Harold try to avert disaster, they travel into the future and seek the help of their adult selves. Harold is pictured with his husband and their kids.
Drama. Raina Telgemeier. (5 – 8) Graphic novel through drama – a play – and drama between characters explores middle school feelings with boyfriends and girlfriends, and boyfriends and boyfriends.
Drum Roll, Please. Lisa Jenn Bigelow. (3 – 7) This summer brings big changes for Melly: her parents split up just before she goes to Camp Rockaway, her best friend ditches her, and she finds herself falling for a girl at camp. To top it off, Melly's not sure she has what it takes to be a real rock 'n' roll drummer.
Gay & Lesbian History for Kids: The Century-Long Struggle for LGBT Rights. Jerome Pohlen. (5 – 9) This book puts the historic struggle for LGBTQ equality into perspective Given today's news, it would be easy to get the impression that the campaign for LGBTQ equality is a recent development. This resource helps put recent events into context.
The House of Hades. Rick Riordan. (4 – 6) In the fourth installment of the Heroes of Olympus series, Demigod Nico comes out and admits he is in love with Percy. The topic continues into The Blood of Olympus as he develops a crush on a counselor at Camp Half-Blood.
Hurricane Child. Kheryn Callender. (4 – 8) Feeling lonely and bullied daily with cruel remarks about her dark skin tone, Caroline finally befriends a new student, Kalinda. As Caroline develops a crush on Kalinda, they work together to find Caroline's mother.
Ivy Aberdeen's Letter to the World. Ashley Herring Blake. (5 – 7) In the wake of a destructive tornado, one girl develops feelings for another in this stunning, tender novel about emerging identity.
The Misadventures of the Family Fletcher. Dana Alison Levy. (3 – 5) From camping trips to scary tales told in the dark, from new schools to old friends, from imaginary cheetahs to very real skunks, the Fletchers' school year—as always—is anything but boring. Meet the Fletchers: four boys, two dads, and one new neighbor who just might ruin everything. Continues with The Family Fletcher Takes Rock Island.
The Misfits. James Howe. (6 – 9) Four best friends try to survive seventh grade in the face of all-too-frequent taunts based on their weight, height, intelligence and sexual orientation/gender expression. The characters, including an open and unapologetically gay boy, are not cast as victims, but as self-empowered agents of change who will stand as solid role models. With a focus on individual characters from The Misfits check out Totally Joe, Addie on the Inside, and Also Known as Elvis.
The Mysterious Edge of the Heroic World. E. L. Konigsburg. ( 5 – 7) Two boys find themselves caught up in a story that links a sketch, a young boy's life, an old man's reminiscence, and a painful secret dating back to the outrages of Nazi Germany. Includes revelations about the victimization of artists and gays during the Holocaust.
Not Your Sidekick. C.B. Lee. (5 – 8) Welcome to Andover, where superpowers are common, but internships are complicated. On the upside, Jessica gets to work with her longtime secret crush, Abby. But, with a sudden and dangerous turn, she uncovers a plot larger than heroes and villains altogether. Sequel: Not Your Villain.
The Pants Project. Cat Clarke. (3 – 6) Liv knows he was a
lways meant to be a boy but he hasn't told anyone yet – not even his two moms. Now, his new school has a terrible dress code, he has to wear skirts! The only way for Liv to get what he wants is to go after it himself with a mission to change the policy and his life.
The Parker Inheritance. Varian Johnson. (3 – 6) Candice discovers a mysterious old letter about an injustice from decades ago. With the help of Brandon, she begins to decipher the clues to a story that leads them deep into their South Carolina town's history—a history full of ugly deeds and forgotten heroes. Good historical detail and LGBT characters included.
The Popularity Papers: Research for the Social Improvement and General Betterment of Lydia Goldblatt and Julie Graham-Chang. Amy Ignatow. (4 – 6) Two fifth-grade best
friends are determined to uncover the secrets of popularity by observing, recording, discussing, and replicating the behaviors of the "cool" girls. Notebook format with a lot of illustrations. Julie has two dads. There are seven books in the series. The second book specifically looks at bullying.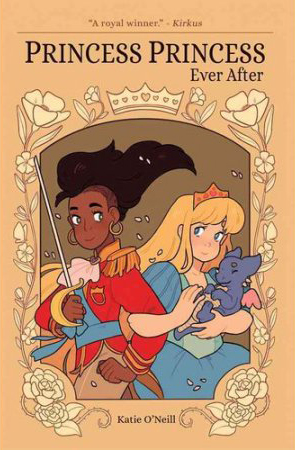 Princess Princess Ever After. Katie O'Neill. (2 – 5) When the heroic princess Amira rescues the kind-hearted princess Sadie from her tower prison, neither expects to find a true friend in the bargain. They join forces to defeat a jealous sorceress while realizing their happy ever after is with each other.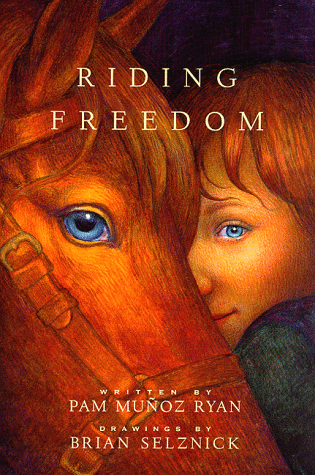 Riding Freedom. Pam Muñoz Ryan. (4 – 6) A fictionalized account of the true story of Charley (Charlotte) Parkhurst who ran away from an orphanage, lived as a boy, moved to California, drove stagecoaches and continued to live as a man. Spanish edition: Un caballo llamado Libertad.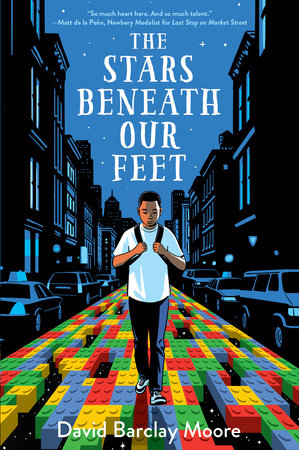 The Stars Beneath Our Feet. David Barclay Moore. (5 – 9) A boy tries to steer a safe path through the projects in Harlem in the wake of his brother's death. Then Lolly's mother's girlfriend brings him a gift that will change everything: two enormous bags filled with Legos.
Zenobia July. Lisa Bunker. (5 – 9) Zenobia July is starting a new life in Maine with her aunts. People used to tell her she was a boy; now she's able to live openly as the girl she always knew she was. When someone anonymously posts hateful memes on her school's website, Zenobia knows she's the one with the hacking skills to solve the mystery.