Ellen Kahn
Director, Children Youth and Families Program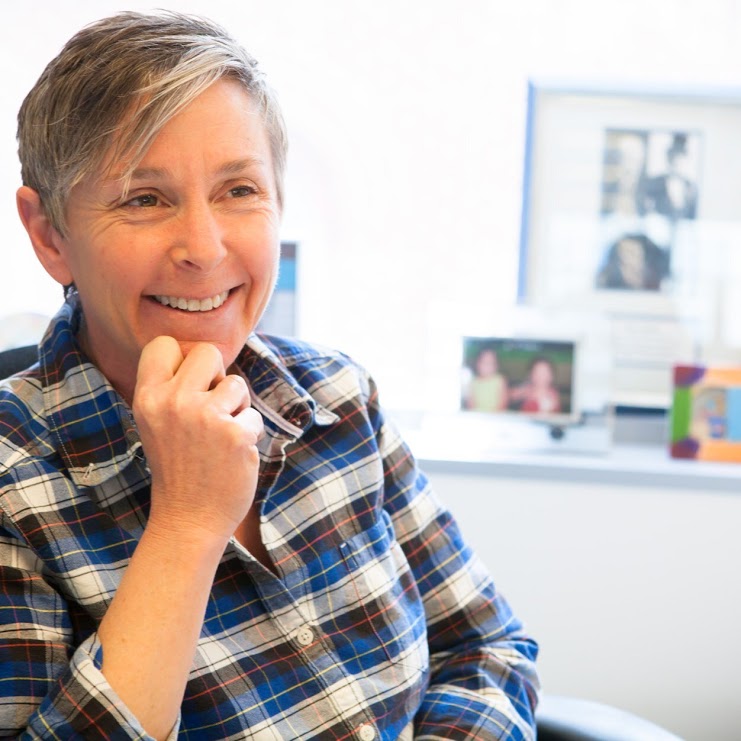 Since 2005, Ellen Kahn has served as Director of the Human Rights Campaign Foundation's Children, Youth & Families Program. In this role, Ellen provides national leadership and expertise in public education and advocacy efforts to achieve full inclusion and equality for LGBTQ youth and families. Under Ellen's leadership, HRC Foundation launched three highly successful, innovative programs that promote fair and inclusive policies and practices –– All Children—All Families, Welcoming Schools, and Youth Well-Being, anchored by the annual Time to THRIVE conference to support LGBTQ youth.
Prior to joining HRC, Ellen spent 12 years at Whitman-Walker Health in various roles, including Director of the Lesbian Services Program, Associate Director of LGBT Health Promotion and supervisor of a behavioral health program for people living with HIV and AIDS.
Ellen currently serves as President of the Board of Directors of Rainbow Families DC, the capital area's support and education organization for LGBTQ-headed families. She has helped to develop and facilitate "Maybe Baby" classes for prospective LGBTQ parents for 16 years! Ellen earned her B.S. from Temple University and her M.S.S. from the Bryn Mawr College School of Social Work and Social Research. Ellen is the proud mom of two fabulous daughters and lives in Silver Spring, MD.
Johanna Eager
Director Welcoming Schools
Johanna Eager has been involved with equity issues in E/K-12 education for over 20 years as a professional educator. Johanna provides leadership and expertise in addressing identity-based bullying in schools with an emphasis on intersectionality, gender and LGBTQ-inclusivity. Johanna started with HRC Welcoming Schools as the Regional Consultant for the Upper Midwest in 2011.
Prior to joining HRC Welcoming Schools, Johanna worked as a high-school teacher and administrator in public education. Johanna's areas of expertise include the following: E-12 equity and social justice professional development, equity organizational change initiatives, intercultural communications (Qualified Administrator of the Intercultural Development Inventory), anti-racism and white privilege education and fostering LGBTQ-inclusive schools that respect the complexity of gender.
Johanna's mind and heart are hardwired to work toward equity and social justice, in particular, for all youth, families and staff in E-12 schools. Johanna will forever consider weeknights "school nights" and will get to bed early in order to be ready for "school" the next day!
Cheryl Greene
Deputy Director Welcoming Schools
Cheryl Greene has spent her career in education and is passionate about making school a place where all children can thrive. In her current role at Welcoming Schools, she manages the Facilitator Certification Program, which trains and equips outstanding facilitators across the country to provide professional development, support and resources aimed at making elementary schools welcoming for all students and families.
Cheryl was a teacher and school leader for over two decades before joining Welcoming Schools. During that time, it became clear to her that until students feel safe, respected and valued, very little learning occurs.
In addition to her work with Welcoming Schools, Cheryl is a nationally certified Olweus Bullying Prevention Specialist and is the Program Coordinator/Adjunct Professor for Hamline University's Graduate Bullying Prevention Certificate Program.
Cheryl is married to an amazing woman and together they have four wonderful children.
Melba Mathurin
Senior Manager Welcoming Schools
Melba Mathurin is the Senior Manager for Welcoming Schools. In her role, Melba is responsible for the management of the following Welcoming Schools program initiatives: the Welcoming Schools Ambassador Program, Welcoming Schools Seal of Excellence, National Jazz and Friends Readings, and overall support of the Welcoming schools program.
Melba has 12 years of experience working in the non-profit sector both in the US Virgin Islands and the United States. Her experience includes international advocacy for LGBTQ equality in the Caribbean and management of HIV programs to under-served and at-risk populations in New York City and the US Virgin Islands.
Before joining HRC, Melba was a senior consultant for the Virgin Islands Health Department and at the forefront of advancing policy and legislation for LGBTQ rights in the US Virgin Islands. She is the co-founder of the first LGBTQ organization in the US Virgin Islands. Her advocacy for LGBTQ rights was instrumental in the passing of the US Virgin Islands hate crime legislation and implementation of hate crime training for local police officers and nonprofit organizations. Melba led efforts to petition local legislators to add protection for LGBTQ students to anti-bullying legislation. She provided anti-LGBTQ bias and bullying training to school educators and supported LGBTQ high school and college students to form Gay-Straight Alliances to improve school climate. Melba is passionate about working to make schools safer and inclusive for LGBTQ youth.
Michele Hatchell
Welcoming Schools Expert Trainer
Michele Hatchell has been a public school elementary art teacher for over twenty years in Chicago and Madison, WI. For the past five years, Michele has and continues to serve as a Welcoming Schools-Gender Spectrum teacher and staff trainer for the Madison Metropolitan School District. She has provided guidance and expertise throughout Wisconsin to schools, universities and hospitals on best practices to create welcoming and safe spaces for people of all gender identities. She is also a professional artist and has created individual and public art with folks of all ages in communities, schools, museums and college campuses. In 2014, her elementary students challenged Lego to be more gender and culturally inclusive with their belief that Different Is Perfect. She believes strongly that the Welcoming Schools approach can successfully create schools where students and staff work together to include others, celebrate differences and cultivate ally behaviors for the benefit of all.
Toni Smith
Welcoming Schools Expert Trainer
Toni Smith is a retired 32-year veteran public school educator. In addition to her practice, for 20 years she has been a professional development facilitator who has trained groups, locally, nationally and internationally. Toni is passionate about making schools safe and inclusive for all students, including LGBTQ students and students on the autism spectrum.
In addition to her work with Welcoming Schools, Toni is a member of the National Education Association's Safety, Bias, and LGBTQ Issues training cadre and their Cultural Competence and Social Justice training cohorts. Toni is a board member and lead trainer for the Georgia Safe Schools Coalition, which provides training for K-16 educational institutions and community groups on making schools and organizations safe and inclusive for LGBTQ students and community members.
Toni is a wife, mother of two amazing children and is "GoGo" to 5 perfect grandchildren.
Kathy Pillsbury
Welcoming Schools Consultant
Kathy Pillsbury was one of the founders of Welcoming Schools and continues to be an active consultant for the project. When her children, who are now 26 and 20, first started school, Kathy became active in her children's school community. At the same time, she began actively researching materials to help her children's teachers understand their family and help her children thrive and feel safe at school. Kathy served on the Board of GLSEN Boston for many years before the development of Welcoming Schools.
Prior to her work with HRC Welcoming Schools, Kathy was a financial director and project manager for non-profit organizations. She oversaw budget and cash flow management, direct-mail and telemarketing campaigns, strategic research projects and produced educational campaign materials including the Academy Award winning film, Deadly Deception: General Electric, Nuclear Weapons and Our Environment. Kathy earned her B.A. from Goddard College and her MBA from the Yale School of Management.