Amina's Voice. Hena Khan. (4 – 7) A Pakistani-American Muslim girl struggles to stay true to her family's vibrant culture while simultaneously blending in at school after tragedy strikes her community.
The Best Man. Richard Peck. (3 – 5) With humor and insight, Newbery Medalist, Richard Peck, follows a boy from elementary school to middle school navigating school and family dynamics. Starts with a wedding disaster and ends with a great one.
Better Nate Than Ever. Tim Federle. (5 – 9) Nate plans a daring overnight escape to New York for an open casting call for E.T.: The Musical, knowing this could be the difference between small-town blues and big-time stardom. In the sequel, Five, Six, Seven, Nate!, Nate finds out that Broadway rehearsals are nothing like he expects: full of intimidating child stars, cut-throat understudies, and a secret admirer!
Drum Roll, Please. Lisa Jenn Bigelow. (3 – 7) This summer brings big changes for Melly: her parents split up just before she goes to Camp Rockaway, her best friend ditches her, and she finds herself falling for a girl at camp. To top it off, Melly's not sure she has what it takes to be a real rock 'n' roll drummer.
The Exact Location of Home. Kate Messner. (3 – 5) Zig's dad canceled his last visit with no explanation. As Zig and his mom struggle financially, Zig sets out to find his dad with a GPS and clues around town. Looks at homelessness, incarceration, bullying.
George. Alex Gino. (3 – 6) When people look at George, they think they see a boy. But she knows she's not a boy. She knows she's a girl. George really wants to play Charlotte in Charlotte's Web. Will she be able to?
Ghost. Jason Reynolds. (4 – 8) Ghost has a natural talent for running. But can he run fast enough to get away from his past or does he have to figure out how to deal with it and his raw emotions – getting support from Coach. Ghost lives with his mom while his abusive dad is in jail.
Gone Crazy in Alabama. Rita Williams-Garcia. (4 – 6) The three sisters from One Crazy Summer and P.S. Be Eleven head to Alabama to visit their grandmother and great-grandmother for the summer. The book includes family history, family complications and family fun.
Ivy Aberdeen's Letter to the World. Ashley Herring Blake. (5 – 7) In the wake of a destructive tornado, one girl develops feelings for another in this stunning, tender novel about emerging identity.
The Misadventures of the Family Fletcher. Dana Alison Levy. (3 – 5) From camping trips to scary tales told in the dark; from new schools to old friends; from imaginary cheetahs to very real skunks –– the Fletchers' school year is anything but boring. Meet the Fletchers: four boys, two dads, and one new neighbor who just might ruin everything. Continues with The Family Fletcher Takes Rock Island.
The Pants Project. Cat Clarke. (3 – 6) Liv knows he was always meant to be a boy but he hasn't told anyone yet – not even his two moms. Now, his new school has a terrible dress code, he has to wear skirts! The only way for Liv to get what he wants is to go after it himself with a mission to change the policy and his life.
The Parker Inheritance. Varian Johnson. (3 – 6) Candice discovers a mysterious old letter about an injustice from decades ago. With the help of Brandon, she begins to decipher the clues to a story that leads them deep into their South Carolina town's history—a history full of ugly deeds and forgotten heroes. Good historical detail and LGBT characters included.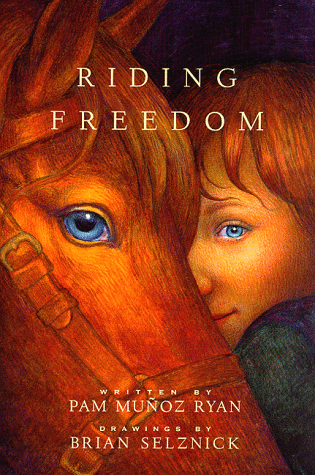 Riding Freedom. Pam Muñoz Ryan. (4 – 6) A fictionalized account of the true story of Charley (Charlotte) Parkhurst who ran away from an orphanage, posed as a boy, moved to California, drove stagecoaches and continued to pass as a man her whole life.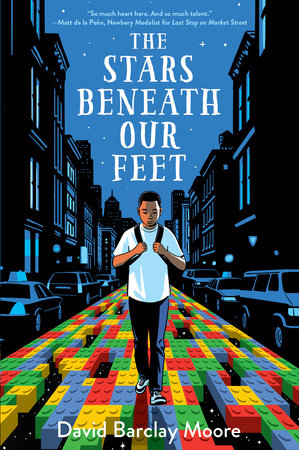 The Stars Beneath Our Feet. David Barclay Moore. (5 – 9) A boy tries to steer a safe path through the projects in Harlem in the wake of his brother's death. Then his mother's girlfriend brings him a gift that will change everything: two enormous bags filled with Legos.
Wishtree. Katherine Applegate. (3 – 7) Trees can't tell jokes, but they can certainly tell stories.... An oak tree and a crow help two children and their neighbors embrace their differences and handle bullying an hate speech.
The Year of the Dog. Grace Lin. (3 – 7) Pacy and her two sisters are the only Taiwanese-American children at school until Melody arrives. Follow them through the Year of the Dog as they celebrate with family, try to integrate different cultures and navigate school. Continues with The Year of the Rat, and Dumpling Days.